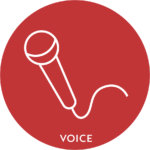 Virtual Voice Lessons and Classes
Group Classes
Title: Intro to Voice: Pop, Rock and Musical Theatre
Teacher: Brandon Taylor Sides
Suggested Grades (Entering in the Fall): 1st-5th
Class MIn/Max: 4/12
Young voice students will learn the fundamentals of vocal technique, including good posture, proper breathing, clear vocal production, tonality and pitch, beginning music theory and acute listening skills. It's important that the students listen to one another and encourage and support one another. Singing has been shown to improve confidence, and as a result, some may have the desire to sing solos! We will empower the students so that they will feel free to share their unique personalities through singing.
Title: Intro to Songwriting
Teacher: Claire Corriveau
Suggested Grades (Entering in the Fall): 2nd-6th grade
Have you ever wondered how musicians combine words and music to create timeless, earnest works of art? Join our songwriting class to learn how! Learn the basics of song construction, lyric writing, and instrument arranging in this engaging course.  Basic instrumental proficiency strongly encouraged.